Noom weight loss coach gives you daily tasks to help create positive lifestyle changes for long-term weight loss. These small tasks will guide you through a scientifically-backed weight loss plan that provides informational articles, fun challenges.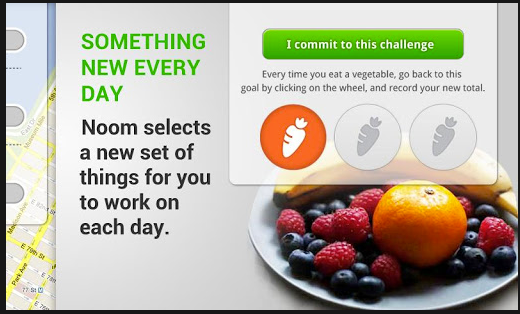 Features of the Noom Weight Loss Android Application:
– A personalized and interactive weight loss plan
– An easy-to-use, color-coded food logging system
– Learn about healthy meals
– An exercise tracker with real-time GPS and pedometer
– Unique daily healthy food and exercise tasks to help get to your goal.
– Track workouts, meals, and weight loss progress
– Programmable reminders to stay-on-track
– search algorithm helps you log meals in seconds
– Color-coded logging teaches you which foods are really healthy (and which foods aren't)
– Robust food database with nearly one million foods, including popular restaurants and local cuisines
– Noom points and levels to reward you and track your progress from day to day
– Helpful articles to give you the scoop on healthy food recipe and wellness
– Motivational home screen widgets to keep you engaged
– User support forums to connect with others, ask questions, and share tips
– Social networking integration with Facebook and Twitter
This Free Weight Loss App use your Google account to create a permanent Noom account so you can backup and recover your data. The contacts are only used if you want to connect with friends who also use Noom to track their activity.

Noom Weight Loss Coach is one of the Best Android Application for fitness and health on your android mobile. This free android application is last updated on 5 August 2016 (version 5.0.8) and requires ANDROID version 2.1 and up to be installed on your android device. The app has 10,000,000 – 50,000,000
installations and is listed under lifestyle category.
UNLOCK EVEN MORE WITH NOOM PRO
•Noom Groups is a virtual group of Noomers like you. In your Noom Group you can share your weight-loss journey and receive the motivation and support you need to stick with your goals.
•Noom Recipes give you creative ideas for healthy, delicious meals, with detailed instructions and one-click logging
•Even larger content library and additional in-app features
This android app will require approx 50M of free space on your device for installation. This free android application is rated 4.3 with 165,602 reviews. You can download this free android app from Google play store.