Slice It Android App is all about slicing shapes into fragments that are equal in size. Download this best android app for your kids.
Slice It Android App currently has 200 stages and growing! Each level is a new shape, and each stage has increasingly difficult fragmentation levels. In advanced stages there are new obstacles that make Slice It! more exciting and challenging.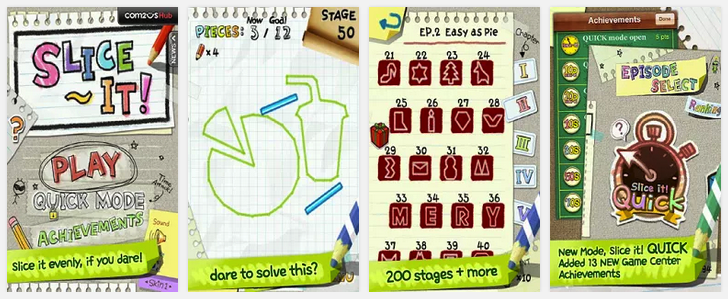 How to play :
– Slice shapes into fragments that are equal in size
– Get a perfect score on any level and earn a Hint.
– Use a Hint to clear difficult levels
New time attack mode, "Slice it! QUICK!" Try to slice as many, as accurate, and as fast as you can in 1 minute! Also, compete with friends to get higher rankings.
Slice It Android App is the Best Android Application for kids on your android mobile and tablet. This is a free android application is last updated on 21 March 2014 & The latest version of this android app is 1.8.4 and requires ANDROID version 2.2 and up.
This app is currently trending under brain & puzzle android apps and has 10,000,000 – 50,000,000 installations since its launch. This android app will require approx 11 M of free space on your device for installation. This android app is rated 4.5 with 285,877 reviews.
You can download this free android app.