Download LEGO Building Blocks Toy Train for your kids. This app bring your preschool a building toy specifically designed for children ages 1 ½ – 5 years. Preschoolers can learn about shapes and colors hands-on.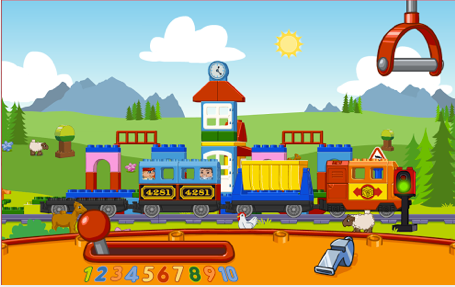 Features of LEGO Building Blocks Toy Train :
– Bright, fun, and toddler-friendly animations and soundtrack
– Intuitive icons and navigation for easy game play
– Virtual building with LEGO® DUPLO® bricks
The app is absolutely free and kid safe :
– No in-app purchases
– No third party advertising
– No links to websites
Your child will play the role of the train driver – choosing and loading wagons, building bridges, stopping at crossings, refueling and laying new tracks around pesky rocks.
LEGO® DUPLO® Train Android App is one of the best app for kids. This free android application is last updated on 9 April 2014 & the latest version of this android app is 2.0.0 and requires ANDROID version 2.3.3 and up to be installed on your android device.
This best android app is currently trending under casual apps and has 1,000,000 – 5,000,000 installations & will require approx 22 M of free space. This app is rated 3.8 with 53,755 reviews at the time of writing this post.
You can download this free android app from Google play store.