Learn Spanish, French, German, Portuguese, Italian, and English for free on your android mobile.
Duolingo Android application is changing the way people learn languages.
• This android application is free & for real. No fees, no ads, no gimmicks. A college-quality education without the price tag.
• Don't loose hearts for answering incorrectly, advance by completing bite-sized lessons and track your progress with shiny achievements.
• It's constantly improving. Your learning experience only gets better over time.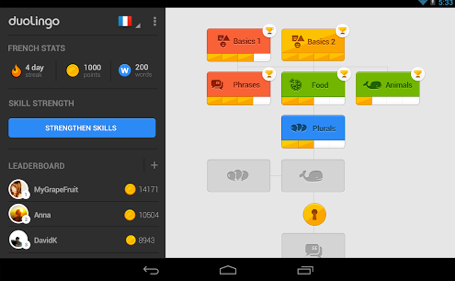 Frequent fliers, subway riders, and those with spotty internet connections can use the offline mode of this app. The app automatically stores about an hour's worth of lessons that you can take while you are offline and Learn Languages on Your Phone.
Duolingo Android application is one of the Best Android App for learning foreign languages on your android mobile. This free android application is listed under productivity apps in Google Android Market. The app has 1,000,000 – 5,000,000 downloads since its launch.
The latest version of this android app (version 1.3.1 ) was released by the developer on October 1, 2013 and requires ANDROID version 2.2 and up to be installed on your android device.
This android app is rated 4.7 with 115,592 reviews at the time of writing this post. This android app will require varied free space on your device for installation depending on device & android version. Download this best android app for free from Google play store.