The best android mobile game of all time and everyone's favorite blasts off into space! Come join the party as the angry birds take the revenge to the whole new level.
Story-line of Angry Bird Space Android App : After a giant claw kidnaps their eggs, the Angry Birds chase it into a wormhole and find themselves floating in a strange new galaxy – surrounded by space pigs! Luckily the Angry Birds have super powers of their own.
Now, The piggies have hijacked the Curiosity Mars Rover but instead of searching for ice crystals, they're looking for egg. Enjoy 20 new fiery levels on the red planet and earn two antenna egg levels. Introducing new astronaut pig!
About Angry Bird Space Android App :
– Angry Birds Space features 60 interstellar levels on planets and in zero gravity.
– This results in spectacular gameplay ranging from slow-motion puzzles to lightspeed destruction.
– With regular free updates, brand new birds, brand new superpowers, and a whole galaxy to explore, the sky is no longer the limit!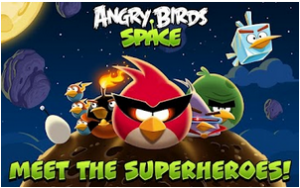 Introduction of new Angry Birds:
– The yellow bird : It sports a purple spacesuit and got a special ability to change the direction in mid-flight
– The black bird : Remember the one that explodes now wears a red and orange spacesuit.
And finally, there is a new bird that freezes objects after the contact so that the other birds can break through obstacles.
Features of Angry Bird Space Android App :
– 60 interstellar levels.
– Regular free updates.
– Brand new birds.
– Brand new superpowers.
– Zero-gravity space adventures.
– Trick shots using planets' gravity.
– Hidden bonus levels.
– Beautifully detailed backgrounds.

What's in this version of Angry Bird Android App:
– Welcome to the delicious food planet of Utopia! These 10 delectable new levels filled with popcorn, cookies, and candy apples are good enough to eat – at least the pigs think so!
– Munch your way through 10 tasty new levels
– Bounce birds off jelly trampolines
– Pop corn to create delicious mayhem
– Brand new birds & superpowers
– Zero-gravity space adventures
Previous version update:
• A new moon rises and puts pigs in motion! If you thought it was hard to pop pigs in space before, just wait til they're orbiting around the icy planets in these 10 NEW LEVELS!
• Addressed crash issues in older devices.
The original Angry Birds game was quite basic in its settings but has made the app such a craze and one of the best android app of all time. Soon after the android app developer followed it up with various themes :
– Angry Bird Halloween Android app
– Angry Birds Rio
– Angry bird android app
– Angry Bird Cherry Pick Season App
– Angry Bird Seasons : Piglantis
Angry Bird Space Android Application is one of the Best Android Application for your android mobile. This free android application is last updated on August 23, 2012 by the developer. The latest version of this android app is 1.3.0 and requires ANDROID version 1.6 and up to be installed on your android device. This best android app is currently trending in Android Market under Arcade & Action android apps with 50,000,000 – 100,000,000 downloads. This android app will require approx 28 M of free space on your device for installation.
This free android application is rated 4.6 with 451,215 reviews in google android market at the time of writing this post. You can download this best android app from Google android market.