Air Control Android application is the best android app to let you help the air crafts safe to the ground. Control the air traffic, and help the air crafts safe to the ground. In this simple yet surprisingly addictive drawing game you take on the role of Air Traffic Controller. It is your job to direct airplanes to runways while avoiding collisions.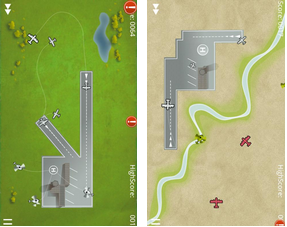 FEATURES
★ Classic game mode as well as the unique puzzle game mode
★ Online highscores
★ Countless hours of addictive gameplay
★ #1 Android air traffic controller game

Great casual game that you go on for a few minutes and suddenly realise you've been playing for hours. The experience would be higher if the ads didn't affect gameplay so much. The ads are understandably necessary, but they need to be adjusted.
Recently changed in this version : Improved paths, they are now less noisy. Improved memory handling, should reduce Out Of Memory errors. location now cached for future use.

Air Control Android Application is the best android app for your android mobile. This is a free android application is last updated on January 14, 2013 by the developer. The latest version of this android app is 3.26 and requires ANDROID version 1.6 and up to be installed on your android device. This app is currently trending in Android Market under casual android apps and has 10,000,000 – 50,000,000 installations since its launch.
Air Control Android Application requires additional permissions as follows:
– Your Location and Internet: To submit regional with high scores
– Phone State and Identity: Used by offers provider to award miles for completing offers
– SD Card Access: To cache video offers
This android app will require approx 3.6 M of free space on your device for installation. This android app is rated 4.5 with 160,239 reviews in google android market at the time of writing this post. You can download this free android app from Google android market.