Galaxy S3 Dandelion live wallpaper is inspired by original Samsung Galaxy S3 wallpaper. This is not the official S3 wallpaper so is ad supported. This is live wallpaper version with flying seeds and also one with "Water Droplet" effect. Enable this effect in the settings screen.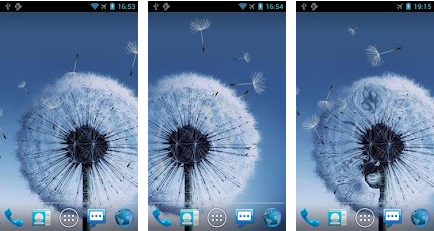 To use this wallpaper: Home -> Menu -> Wallpapers -> Live Wallpapers
Updates in this version of android app:
– Added touch option so flying Dandelion seeds can be repelled when touched, on by default
– Improved and optimized water droplet effect so it looks more nature
Galaxy S3 Free Live Wallpaper is one of the Best live wallpaper Android App for your android mobile. This free android application is listed under personalization apps in Google Android Market. The app has 1,000,000 – 5,000,000 downloads since its launch. The latest version of this android app (version 1.1.6) was released by the developer on August 8, 2012 and requires ANDROID version 2.1 and up to be installed on your android device.
This android app is rated 4.4 with 9,812 reviews at the time of writing this post. This android app will require approx 42 M of free space on your device for installation. Download this best android app for free from Google android market.